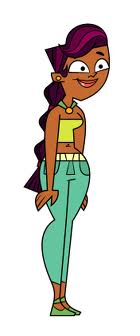 Sierra is a contestant on TDAS. Her potential targets were Cameron and Heather because they had already won a Total Drama Season however because Heather was on a different team she only was able to target Cameron. Sierra was the 3rd person eliminated, the 1st one from her team and overall came 12th place.
Sierra was a member on the Heroic Hamsters.
Elimination
Edit
Sierra was eliminated by Gwen, Sam, Mike, Zoey, Lindsay and Cameron.
Reason: They all thought she was to competitive and would get in their way for potential challenges.